Katie Miller Testimonial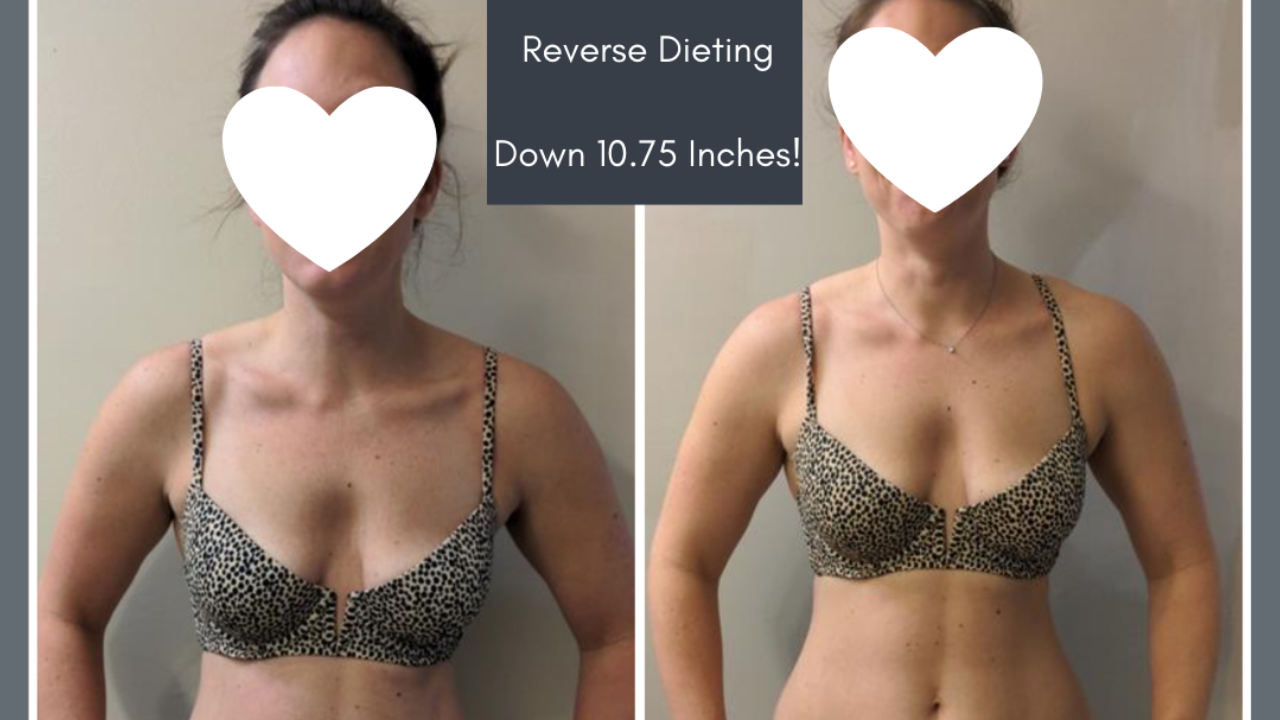 Mother, Wife, Doctor
She lost 10 inches from completing a Reverse diet through the REPAIR phase of the Metabolic Fix™ framework.
She went from living off of 1,300 calories to eating over 1,900 calories.
Why Katie joined the program…
"Since the birth of my first child in 2012, I have been on a dieting roller coaster. I have attempted paleo, keto, low carb, low fat, macro counting, and multiple diet plans by coaches, and while some may have been successful for me, I was in a constant yo-yo cycle with my weight."
"In 2018, I had lost 15l bs in months, but by 2021 had gained 20lbs. My old diets and restrictions that had worked in the past were not working for me again."
"On the weekends, I would enjoy dates with my spouse, but I felt critically guilty about what foods I chose and how I could've chosen better. I would PUNISH myself on the treadmill the following day."
"Then, my friend introduced me to Ashley. I monitored her page and started to implement some of her guidance immediately. After seeing her on social media, I knew I needed a reverse diet. My body needed me to stop the constant pendulum swings of less-than-sustainable caloric intake with excess."
Katie's experiencing working with Ashley throughout her Reverse Diet…
"Ashley was very upfront with the difficulty some women have with reverse dieting and how weight loss would likely not happen during this time period; there was even a risk of weight gain. I was committed and wanted to be healthier overall, not just "skinny.""
"Ashley completely guided my reverse diet. With increases to my caloric intake monthly, she also planned my workouts geared toward my own goals. I wanted to be able to do a pull-up, and with her programming, I did!"
"I know I couldn't have committed to a reverse diet for five months if it weren't for Ashley. I learned so much from this experience about my body and healthy dieting. With constant review of food logs, Ashley assured me I could maintain consistency and not torment myself with a treat meal weekly."
The progress she made throughout the Reverse Diet…
"In five months, I lost almost 10 inches; my clothes fit better. I gained one pound… ONE!"
"I couldn't be happier starting fat loss at the same weight I've been for an entire year. Thanks to Ashley's guidance, supervision, and encouragement."
Want to learn more about how we can help you improve your health and fitness, lose those stubborn inches and pounds, and finally get the sustainable results you've always wanted?  Check out our complete line of products and services and take a quick quiz to help select the best fit for you! 
Learn More!
Join THOUSANDS of weekly readers!
Join our mailing list to get exclusive members-only content, amazing bonuses, and receive the latest news and updates from our team.  Don't worry, your information will not be shared.
We hate SPAM. We will never sell your information, for any reason.